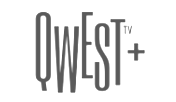 I worked on the info-graphics for the film "The Boy Band Con", a YouTube Originals documentary on how producer Lou Pearlman made and then grafted such bands as "NSYNC" and the "Backstreet Boys". The film was released world wide.
I worked with filmmaker
Geoff Shelton
doing the info-graphics for the BTS video that explained the ideas and mechanics behind the making of OKGO´s zero gravity music video "
Upside Down and Inside Out
". It was used world wide.
After conceiving of (along with
Raul Lucas
), animating and doing the SFX for the music video "
Bouderbala
" for the international group signed with Sony Records "
Gabacho Maroc
", two members of the band went on France´s TV channel "
TV5Monde
" to assess the impact and elaborate on the meaning of the video´s main character. Video not available in all countries.
I worked on the graphics for the presentation and intro of the television series "
One Night Stand
" by
Leslie Lyons
for
Quincy Jones

'
 streaming channel "
Qwest TV
". Below is a Trailer for one of the episodes featuring
Seun Kuti
, son of
Fela Kuti
, both renowned Afrobeat musicians, Fela being considered "The King of Afrobeat", according to most sources.
More press on the above videos and other projects I have done or helped out on, gleaned from the internet: